Firms left out of Jersey telephone directory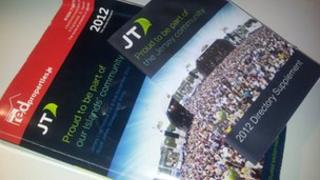 A Jersey car hire company, which was left out of this year's JT telephone directory, claims it has lost business because of the mistake.
Telecoms firm JT did not put the address or telephone number of Zebra Hire Cars and a number of other companies into its 2012 phone book.
The company apologised to all those affected by the error.
Barna Kutvolgyi, from JT, said the directory was "a complex document" that contained "a huge volume of data".
To address the problem, the company distributed a directory supplement around the island.
Philip Sturgess from Zebra Hire Cars said it had cost him business.
He said: "Everyone is fighting for every bit of business and as we all know anything to do with tourism is down this year dramatically."