Stamps celebrate Jersey's dolmens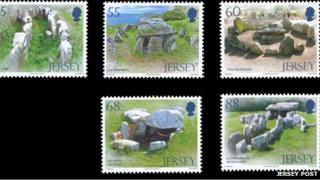 Stamps have been issued to celebrate Jersey's archaeological history.
The five stamps, which feature images of dolmens from across the island, are the third in the Archaeology series.
A dolmen is a type of stone grave dating from the Neolithic period usually made up of three or more upright stones supporting a large flat horizontal stone.
Susanne Lowman of Jersey Post said the stamps, designed by Andrew Robinson, highlighted Jersey's rich heritage.
She said people in Jersey were probably aware of the dolmen at La Hougue Bie and the gallery grave and cist-in-circle on the lower section of St Andrew's Park.
"They might be surprised, however, at what can be found a little off the beaten track," she said.
"For example, a short climb through the woodland at Mont Ubé or a peek over a low wall in the middle of a field at Grantez in St Ouen will each reveal Neolithic dolmens."
During her research, Mrs Lowman consulted local expert Jeremy Percival.
Mr Percival said there were about 75,000 dolmens worldwide.
He said: "Thirteen may currently be seen in various locations around Jersey and more yet may lie awaiting to be discovered and excavated."