Date set for parking trial at Jersey car park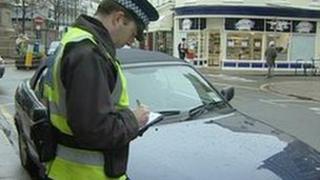 A new payment system at Sand Street car park will be trialled from 12 November.
A scanner will be used to read number plates as cars enter the car park and drivers will pay as they leave with a debit, credit or pre-paid card.
The year-long trial will help Jersey's authorities decide whether to replace parking scratchcards.
Jersey's Transport Minister, Deputy Kevin Lewis, said his department was responding to public demand for a more flexible system.
He said: "Although this new system is really quite simple it is a big change for the public, so we are trying to give them help and information to make it easier for them.
"They may be a bit unsure what to do the first time, but the display screen guides you through the process."
He said staff would be at the car park over the next two weekends to explain how the new system will work.
During the trial, drivers will be able to park for more than three hours in Sand Street car park.
The cost will remain one unit (71p) per hour for the first three hours, but after that it will increase sharply to discourage commuter and long stay parking.
Deputy Lewis said scratchcards would still be needed for all other Transport and Technical Services car parks and on-street parking.