Jersey Airport landing equipment damaged by gunshot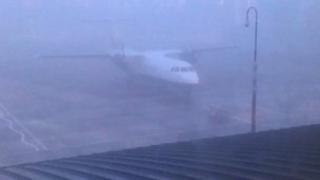 A piece of landing equipment at Jersey Airport has been damaged by a gunshot.
Stephen Driscoll, from Jersey Airport, said it was likely the Instrument Landing System (ILS) was shot by someone aiming at birds.
He said: "It looks as though it came from where we use lethal control for some of the bird management."
Mr Driscoll admitted there would have been less disruption to travellers during last week's fog if the equipment had not been damaged.
Three days of fog and poor visibility in the island last week meant most flights in and out of Jersey Airport were either delayed or cancelled.
Mr Driscoll said there would be an investigation into how the system was damaged.
The ILS is 25m (82ft) wide and 2m (6.6ft) tall.
It helps pilots navigate their landings but it has been out of action since August, and without it there is less chance planes can land in low visibility.
It is thought hundreds of travellers have been affected.
Mr Driscoll said: "At first it looked as though it had been shot with a shotgun by the looks of the spread of the debris.
"Initially I involved the police in that, as we thought it might have been damage from outside the fence, or malicious damage.
"Whilst that has not been discounted, it is only a remote possibility now."