RNLI training for five new lifeguards in Jersey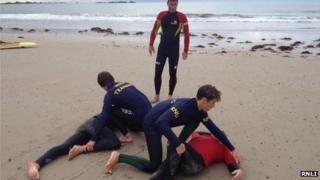 A group of new lifeguards have been trained by the RNLI in Jersey.
Five Jersey surfers have been on an intensive course to get the qualification needed to work as lifeguards next season.
They have been learning about hazard awareness, accident prevention, first aid and open water rescue skills.
Rob Stuteley, RNLI lifeguard supervisor in Jersey, said they had worked with the Jersey Aquatic Rescue Club on the training course.
He said : "We have developed a good working relationship with them over the summer as they've carried out voluntary patrols on the beaches alongside the RNLI lifeguards.
"One of our aims is to increase the number of local lifeguards working year on year so we hope this course will play a big part in encouraging more local people to sign up to join the RNLI lifeguard team for 2013."
Mr Stuteley said islanders who are interested in lifeguarding should contact the charity.