Jersey States members 'should get £818 pay rise'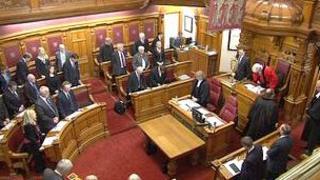 Jersey's politicians should earn a salary of £42,000 from 1 January, according to the panel that recommends States members' pay.
It is an increase in their annual pay of £818 a year.
But the review body is recommending there should be no increase to their expenses allowance of £4,000 a year.
Reviewers considered the current economic climate against the need to give politicians a reasonable standard of living.
It said it was a difficult balance to strike but the rise was "modest".
States members' expenses rose by nearly 10% earlier this year from £3,650 to £4,000.
The review body recommended a pay rise of £1,000 in 2009, no pay rise in 2010, an £800 increase last year and no rise in pay for 2012.
It said it was a 4.6% increase over four years, but an average of 1.1% a year which was below the average inflation rate for the same period, which was 2.5%.