Call for Jersey military liaison post to return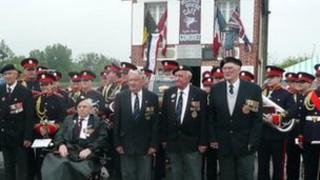 Bringing back the role of an island military liaison officer for Jersey could bring up £1m into the local economy, according to a politician.
Deputy Mike Higgins said there had been fewer visits from the armed forces since the post was removed in 2008.
He has proposed changes to the States financial plan for 2013-2015 to fund the post and other military projects.
Deputy Higgins said re-establishing the post could bring up to £1m into the economy through military visits.
He said previously the military personnel visiting had been responsible for a number of public works projects that had benefited islanders and local charities.
'Island ambassadors'
Ian Robinson, who held the post until 2008, said the position was a "vital link" between the island and the British armed forces.
Deputy Higgins has proposed an extra £40,000 be spent annually to fund the post.
He has also called for £800,000 to be made available to pay for a new headquarters for the Jersey Sea Cadets, for which the States made land available last year, and for more support for the Band of the Island of Jersey.
Deputy Higgins has suggested £60,000 be paid to the band in 2013 for the replacement of their uniforms.
He described the band as "important ambassadors for the island overseas and an important asset in the island supporting many tourism and commemorative events".
The States debate on the 2013-2015 financial plan is due to take place on 6 November.