More empty shops in Guernsey's St Peter Port, politician says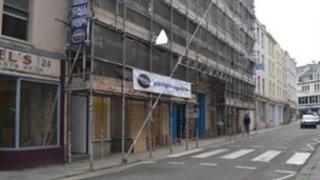 The number of empty shops in St Peter Port has increased, according to a survey by a local politician.
Deputy Mary Lowe said 50 shops were vacant when she carried out her study on Monday, a rise of two since she last counted in August 2009.
She said she wanted to see more action taken to fill the empty shops.
Tony Rowbotham, the chairman of the Guernsey Chamber of Commerce's retail sub-group, said most of the empty units lay outside the town's "core" area.
He said there were very few vacant shops in the Pollet, the High Street and the Arcade.
He dismissed the findings of the survey, and said that retail was in good health locally.
He said: "I don't think that the retail sector [in Guernsey] is anything like as bad as some people would like to make out."
'Demise of our town'
The results of Deputy Lowe's survey were picked up by Deputy Lester Queripel, a St Peter Port North politician and St Peter Port Douzenier.
He said he had carried out a similar survey in January 2012, at which time he counted 42 empty shops.
He said the issue was discussed at parish level and letters were written to the local newspaper.
Deputy Queripel said this ultimately proved fruitless, adding: "Sadly we have no influence it would seem."
He invited members of the public to submit ideas for rejuvenating the the town centre.
He said: "If you have any suggestions or ideas that might help to rejuvenate what was once known as 'the jewel in the crown of St Peter Port', they would certainly be welcomed by many islanders."
He added: "It saddens me to see the demise of our town, but can we actually do anything about it?"
Tony Rowbotham said the Guernsey Chamber of Commerce had carried out a local retail survey, the results of which would be released at a later date.