Bellozanne Abbey gifted to National Trust for Jersey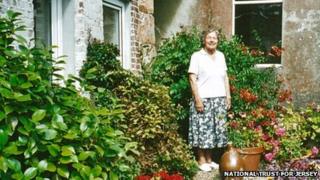 The National Trust for Jersey has been left a medieval farmhouse and outbuildings in St Helier.
Adeline Mundy, from St Helier, gifted the building, known as Bellozanne Abbey, to the trust in her will.
Miss Mundy, who died earlier this year, also bequeathed a nearby building called Courteenhall, the trust said.
Celia Jeune, president of the National Trust for Jersey, said it was an immense privilege to take on the "very special" property.
She said: "The National Trust is deeply honoured that Miss Mundy should have chosen to place this very special property within our care for the benefit of the island.
"With its wealth of historic fabric, fine Jersey furniture and peaceful setting, the National Trust will make every effort to care for it in the same impeccable way that Miss Mundy and her family have done over centuries past."
Despite its name, Bellozanne Abbey was never an abbey.
It is a farmhouse with medieval origins on the Grande Route de Mont à L'Abbé, near the West Hill Hotel.
A spokesman for National Trust for Jersey described it as a well-maintained, historically important farmhouse.
After Miss Mundy finished school, at the age of 18, she taught pupils at the Jersey College for Girls during the German Occupation of the island.
She trained as a teacher in London before returning to Jersey where she taught art, music and PE to pupils at Jersey College for Girl's junior school at Mont Cantel.
A spokesman said Miss Mundy had bequeathed her home, together with its furniture and fittings, to the National Trust for Jersey without their prior knowledge.