Baby gorilla born at Durrell in Jersey is a boy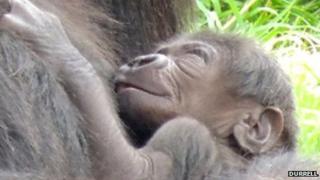 The Durrell Wildlife Conservation Trust has discovered the first baby gorilla to be born there in nearly a decade is a boy.
Hlala Kahilli gave birth to Indigo on 27 September but a spokesman said the sex was not known until last week.
Keepers named the gorilla before discovering its sex.
Indigo is the first offspring of Badongo a male silverback who arrived at the zoo in July replacing Ya Kwanza, who had not bred for eight years.
Ya Kwanza moved to a new home with a bachelor group of gorillas in France at La Vallée des Singes, near Poitiers.
Gorilla keeper at Durrell Jon Stark said: "We discovered that Indigo was in fact a little boy when Kahilli was giving him a thorough top to toe clean.
"We had suspected as much from a few blurry photographs taken by staff and visitors alike but now we can confirm this for sure.
"We are delighted that Badongo has a son who we hope one day will become as magnificent and gentle as his father."