Jersey Electoral Commission recommends smaller States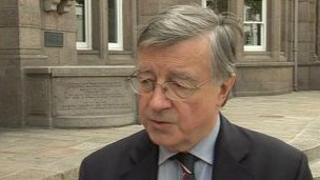 The number of politicians in the States of Jersey should be reduced from 51 to 42, according to a report into how the island's government is run.
The Electoral Commission, consisting of three politicians and three members of the public, has released its findings.
It has also recommended scrapping the position of senator and creating six big constituencies each electing seven seats in the States.
A public consultation on the findings will be open until 23 November.
Transferable votes
The commission has called for a referendum to be held on whether or not the 12 parish connetables (constables) should remain part of the States.
Currently their role as head of a parish automatically sees them given a seat in the assembly, a position they have held since the earliest records of States meetings.
Another recommendation calls for all politicians to serve four-year terms, to replace the current system under which senators serve for six years or three years and deputies and constables serve for three years.
The commission also wants to continue work on moving to a transferable voting system, which it believes works better in multi-member constituencies.
Each Jersey household is being sent a copy of the report and a series of public meetings are being held to discuss the findings before a final set of proposals are published in December.
Senator Sir Philip Bailhache, commission chairman, said: "Our provisional recommendations have taken into account the wide range of views expressed by Islanders in their submissions to us, as well as our research findings, and the advice that we have received from our expert advisers.
"Our intention throughout this process has been to develop the best package of reform for Jersey and we welcome islanders' views on our provisional recommendations."