Jimmy Savile: Ex Jersey police chief calls for inquiry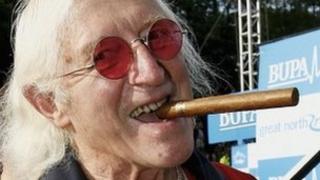 The former deputy chief police officer in Jersey has called for a UK police force to investigate claims Jimmy Savile abused children on the island.
Lenny Harper, who led the Jersey abuse inquiry, said Savile's name arose during it but there was insufficient evidence to pursue him.
But he added he did not think the States of Jersey "would allow anyone independent to come in".
Despite requests, the States of Jersey is yet to comment.
Potential abusers
Mr Harper led a three-year £7.5m investigation into historical child abuse in the island including the former children's home Haut de la Garenne in 2007, which heard from 192 alleged victims and identified 151 potential abusers.
Seven people were successfully prosecuted.
Mr Harper said: "The Jersey government control who works and who looks at what happens in Jersey.
"[We need] someone coming in from outside. I think a police force from the UK would be an obvious choice."
Five people in Jersey, including one former resident of Haut de la Garenne, have so far said they were sexually abused by Savile.
The States of Jersey police force is examining three of the cases. The remaining two have yet to lodge formal complaints.
On Friday, Scotland Yard started a formal criminal investigation in the UK into complaints of abuse and sexual assault by the late entertainer who died in October 2011 aged 84.
It said it was following up 400 lines of inquiry.