Jersey bus company to offer more weekend services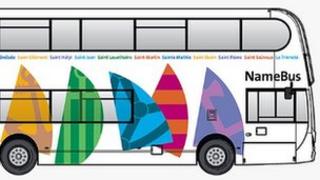 Extra buses will run in Jersey on bank holidays and weekends when the new firm takes over in January.
CT Plus won the contract to operate the island's bus service, beating Connex which ran it for 10 years.
The company said six of the bank holidays would have a Saturday bus timetable and not a limited Sunday one.
It will also be introducing more services on a Sunday including a new route from the Le Marais estate in St Clement to the airport.
Merging routes
CT Plus takes over on 2 January and will bring in a fleet of new buses.
As well as Le Marais, there will be a new Sunday evening service to St Martins and Rozel Bay.
Dai Powell, from CT Plus, said it would be merging the airport route, currently route 15, with the Le Marais circular route, currently route 18, and would use double decker buses for the service.
This means for the first time there will be a direct link between the island's largest housing estate in the east to the airport in the west.
The services from St Martins on weekday mornings will also be more frequent.
Mr Powell said the changes had come from discussions with islanders at parish meetings and there would be more announcements later in the year.