Jimmy Savile accused of Jersey abuse by a total of five people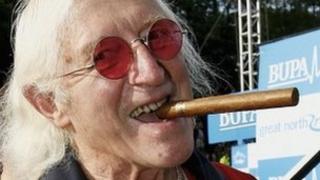 A total of five people have now made allegations they were abused by Jimmy Savile in Jersey.
The first accusation was made to police in 2008 by a former Haut de la Garenne resident relating to alleged abuse dating back to the 1970s, but there was not enough evidence to take it further.
Three more people have contacted police about Savile in the past week.
And another allegation was made by a man through his solicitor, claiming the DJ abused him when he was 10 years old.
The man said he was seriously assaulted during the 1970s by the BBC broadcaster at the Haut de la Garenne children's home.
Regarding the three people to have contacted police in the past week, officers said they could not confirm when the alleged abuse occurred as formal complaints had yet to be made.
Insufficient evidence
Police in the UK investigating allegations of sexual abuse by Savile say they are following up 340 lines of inquiry and are in contact with 14 other police forces.
The States of Jersey Police said claims about Savile were investigated during an inquiry into abuse at Haut de la Garenne, but there was insufficient evidence to proceed.
Savile was a regular visitor to the island and was Mr Battle of Flowers three times, the last time in 2002. He died last year aged 84.
The three-year inquiry into child abuse in Jersey heard allegations the Leeds-born presenter was involved in an indecent assault in the 1970s.
From September 2007, Jersey police were involved in an investigation that led to the production of 1,776 statements from 192 alleged victims, identifying 151 alleged abusers.
Seven people were successfully prosecuted.