Plans approved for Southampton Hotel in St Helier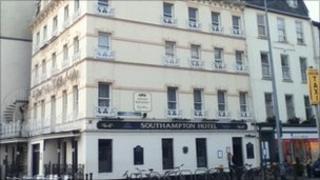 An £8m development at the site of a former hotel in St Helier has been approved by Jersey's planning minister.
Jersey property developer Comprop plans to build a five storey building with restaurant and office space on the Southampton Hotel site.
The buildings on Weighbridge Place were part of the early Victorian expansion of St Helier.
The Council for the Protection of Jersey's Heritage had said the area should be protected.
Planning minister Deputy Rob Duhamel decided the heritage lost was outweighed by the project's commercial value.
Managing Director of Comprop Steve Marie said: "These plans reflect the style of the surrounding Liberation Square area."
The buildings will be demolished, but part of the historic facade of 14 Weighbridge Place will be kept and refurbished.