Jersey politicians express concern over health plan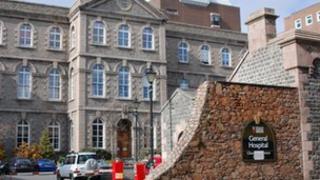 A review of plans to change Jersey's healthcare system has raised concerns about whether the island can afford it.
The health scrutiny panel has reviewed the health department's plans and made or raised a number of recommendations.
The Health White Paper, published by Health Minister Deputy Anne Pryke, sets out ways the island can change to cope with an ageing society.
Deputy Kristina Moore from the health scrutiny panel said she supported the broad direction of the health plan.
She said: "Although the panel supports the broad direction of this report and proposition, we do have concerns about the details that are yet to come and the long term affordability of this reform."
New hospital
Deputy Pryke revealed the new model for health and social care in Jersey in July.
The paper put forward a number of proposals that will need to be debated by the States of Jersey including building a new hospital within 10 years.
The health minister also said more health and social care services should be available in individuals' homes as part of the proposals.
The scrutiny panel disagreed with this. Its proposals will be taken into account by the health minister before the plan is put forward for a States debate.
Deputy Moore said: "The panel is unconvinced that the introduction of community services will lead to a convenient balance of supply and demand between hospital care and care in the community.
"Rather it recommends that the Health Department should model the impact of investment in primary care and community services on the demand and supply of hospital services."
In the report, the scrutiny panel questions whether the planned changes can be delivered at a "cost that is affordable and with the degree of effectiveness islanders are right to expect".