Jersey politician describes States plan to buy Plemont as 'reckless'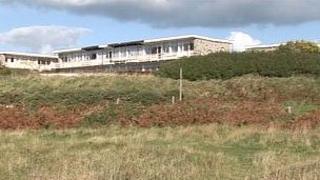 Plans for Jersey's government to buy part of the headland at Plemont to protect it from development have been described as "astonishingly reckless".
Deputy Gerard Baudains said if the government was to buy the site of the former Pontin's holiday camp there should be a limit on the price.
Jersey's chief minister wants the government to buy the site.
Senator Ian Gorst is lodging a proposition to buy the land and restore it back to nature.
Deputy Baudain said he was alarmed the Treasury Minister, Senator Philip Ozouf, also supported the proposals to buy the headland without setting the cost.
Plemont Bay Estates has submitted plans to build 28 homes on the site and leave part of it to nature.
An independent inquiry has been conducted and Alan Langton is expected to publish his findings soon.
Deputy Baudains said that if the government was to buy the site they should pay no more than £8m.
Paul Harding, the architect working for the owners, said they were not prepared to sell the site for £8m.