Jersey social housing plan for Fort Regent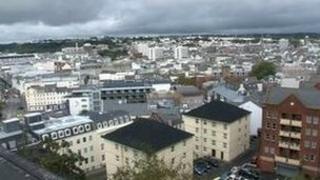 Plans for social housing at Fort Regent in St Helier, Jersey, have been given the go ahead.
Assistant Treasury Minister Deputy Eddie Noel said 50 homes could be built on the old Norman's Timber Yard.
A masterplan for the fort includes knocking down the derelict swimming pool but keeping a leisure centre in the building.
Deputy Noel said it was part of the States obligation to provide "much needed" social housing.
He said: "We have identified that obligation already on the ambulance station site but that was a minimum target, this could provide us with another 50 units and it is on a brownfield site."
Ann Chamier of the Fort Regent Users Association said social housing was a bad idea.
She said: "I think Fort Regent should be kept as a sports facility for the people of the island and not have social housing with all the troubles that come with it."
Planning Minister, Deputy Rob Duhamel said sport was still an important part of his plans for Fort Regent.
He said: "In the fading memory of the British Olympics there are even more opportunities to set up sporting links. If we put our eggs in this particular basket we may even have a team for the next Olympics."