Baby gorilla born at Durrell park in Jersey called Indigo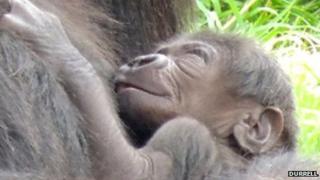 The first new baby gorilla to be born at Durrell in nearly a decade has been named Indigo.
Hlala Kahilli gave birth to the baby at the end of September but a Durrell spokesman said the sex was not yet known.
It is the first offspring of Badongo the male silverback who arrived at the zoo in July to replace Ya Kwanza.
The 24-year-old Hlala Kahilli became a mother for the fourth time at the park in Trinity on 27 September.
A Durrell spokesman said mother and baby were "doing extremely well".
Ya Kwanza left Jersey after not breeding for eight years.
He will be moved to a new home with a bachelor group of gorillas in France at La Vallée des Singes, near Poitiers.