Jersey bus strike: Minister considers legal action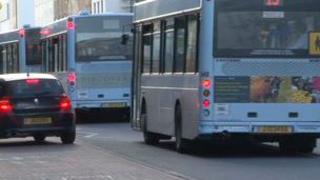 The States is speaking to lawyers about the "illegal" bus strike in Jersey as it enters its second day.
Transport Minister Deputy Kevin Lewis said his department was working to get drivers back on the road.
Staff walked out in a dispute over contract changes when CT Plus takes over from Connex in January.
Deputy Lewis will be asked about the strike in the States after the Unite and Unison unions said it would go on "indefinitely".
Bus services in Jersey stopped on Monday after workers walked out in protest.
'Money and overtime'
Jim McCartan, from Unison, said the strike action was indefinite and that staff "had been backed into a corner".
John Rogers, from Transport and Technical Services. said: "Whatever else is said, this [strike] is about money and overtime.
"It is money for a few drivers who are earning I believe an extortionate amount of money and doing too many hours every week driving a bus."
Deputy Lewis said drivers had been given an extra week to sign new contracts as talks continue to get drivers back on the road.
Connex staff say changes to their contracts do not take into account their length of service.
Some staff are members of Unite the union while others are in trade union Unison.