States of Jersey potato beetle warning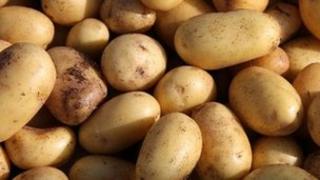 People are being warned about the dangers of importing potatoes for planting, which could introduce pests to Jersey.
The Department of the Environment will be working with the Ports of Jersey, the Customs and Immigration Service and travel agents to highlight the risks.
Importing potatoes for planting is against the law.
The department said it could introduce pests like the Epitrix potato beetle, which could damage the potato industry.
Scott Meadows, from the department, said: "Should this pest enter Jersey and establish in local crops, the damage caused would be costly and eradication would be difficult.
"Conditions would be placed on exports of Jersey Royal Potatoes to the UK, slowing harvests and hampering the potato season."
He said the adult beetles feed on the foliage and the larvae feed on the roots.
Epitrix potato beetles are native to North America but have also been found in Portugal and Spain.