Jersey's old waste plant at Bellozanne to be demolished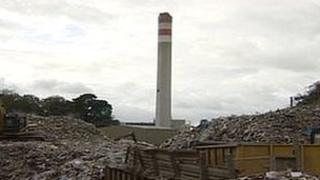 The Bellozanne waste plant could be demolished next year, according to Jersey's transport and technical services (TTS) department.
The States department has applied to demolish the old incinerator in St Helier in a year-long project, which will cost about £1.5m.
If approved by Jersey's planning department, the project to remove the waste plant would begin in January.
Chris Sampson from TTS said they would try to keep disruption to a minimum.
The waste plant at Bellozanne has been replaced by the new energy from waste plant at La Collette.
He said workers would start from the top of the 100m tall chimney and take it down brick by brick.
"It is not going to be a big explosion toppling the chimney which some people are probably imagining, it will be a managed and staged demolition," he said.
"There will be a scaffold fitted to the very top of the chimney and staff will gradually break the chimney down."