The number of workers in Jersey fell by 1% in June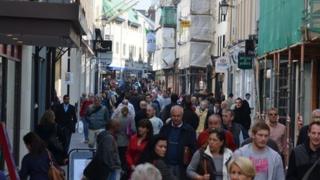 There was a 1% fall in the number of people working in Jersey in June, according to States figures.
The Jersey Labour Market report said 56,380 people were working in Jersey in June, 530 fewer than in June 2011.
The States Statistics Unit said there was a decline in the number of workers in banking, and the building and shopping sectors.
There were 180 more part-time workers in the private sector in June, compared to the same month last year.
But figures showed there were 740 fewer full-time jobs.
The Economic Development Minister, Senator Alan Maclean, said: "What we are seeing here in Jersey with regard to our finance industry and the impact on the banking sector is no different to virtually any other jurisdiction.
"Jersey has proven to be very robust, we have still got more than 12,500 people employed in the finance sector and it is still the major contributor to the island's economy."
The figures also showed the number of working people had fallen from a 15-year high last year, and was predicted to level out.