Jersey government plan to buy the Plemont headland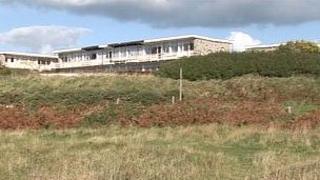 Jersey's chief minister wants the government to buy the former Plemont holiday site.
Senator Ian Gorst is lodging a proposition to buy the land and restore it back to nature.
An independent inquiry is currently conducting a public review of plans by a private developer to build on the site.
Plemont Bay Estates has submitted plans to build 28 homes on the site and leave part of it to nature.
'Glorious piece of Jersey'
A number of projects to redevelop the holiday village have been rejected over the past decade.
But the developer has faced opposition from conservation campaigners such as the National Trust for Jersey over the plans.
The trust wants to buy the site and return it to nature.
Assistant Chief Minister Senator Sir Philip Bailhache said this had been tried before but things had changed.
He said: "There was a proposition before the states nearly three years ago which the States rejected by a small majority but things are different now."
Senator Bailhache said that unlike before there is more information on the value of the land and the National Trust for Jersey had agreed to make a contribution to any purchase.
"Land at Plemont is in the green zone, it is a glorious piece of Jersey that is at the moment ruined by the eyesore of the former holiday village," he said.
Peter Thorne, representing the developers, said there is nothing to stop the States of Jersey speaking to his client if they want to buy it.
Alan Langton, the inspector leading the investigation, said the idea of whether the States should buy the site was outside the scope of the inquiry and a political decision, not a planning decision.