Jersey businesses 'must help' shape digital curriculum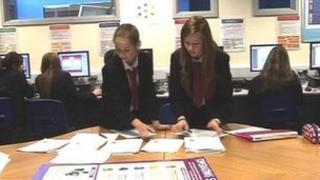 Businesses need to help schools create a digital curriculum if Jersey is to keep up with industry, a head teacher has said.
John McGuinness of Grainville School said a modern curriculum was needed to meet business needs.
Speaking after an Institute of Directors debate on the future of the digital industry in Jersey he said companies must do their bit.
Treasury Minister Philip Ozouf said he would provide resources schools needed.
Senator Ozouf said: "The headmaster of Grainville School can't wait for a strategy, he wants help now.
"If he wants infrastructure and he wants money then we will make it available.
"If this is about improving the lot of Grainville students, giving them expertise, a future in ICT then lets give it to them."
'Digital entrepreneurs'
Mr McGuinness said: "If you are talking about a modern curriculum it has got to meet the needs of a modern society, to do that you have to have a relationship with the end user - business.
"We need to look at entrepreneurs, business skills and in a close community like Jersey it is even more important that we listen to what business leaders and employers are seeking.
"If we can't find the future digital entrepreneurs and experts Jersey will have to bring them in or look for them, Jersey will lose business to overseas."
Mark Loane from Jersey technology company C5 Alliance said work was already under way to improve the digital curriculum.
That included after-school clubs run by technology professionals.
He said more needed to be done to turn pupils from technology users to technology creators, but schools and ministers were already getting involved.
He said: "The really important one for me is that ministers are really zeroing in on this and know what needs to be done.
"The number of head teachers I've spoken to absolutely get it and absolutely want change - plenty of momentum, plenty of opportunity here and I can see things changing really quickly now."