MP John Hemming alleges Jersey crime 'cover-up'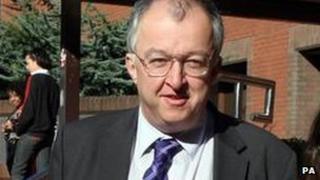 A UK MP has called for an investigation into allegations of a "cover-up" of crimes in Jersey.
Liberal Democrat John Hemming told the House of Commons that criminal offences were "being swept under the carpet".
He urged the UK Government, which has a responsibility to ensure good governance in the island, to intervene.
The Jersey Chief Minister's Department has not yet responded to the allegations.
'Bloggers threatened'
Mr Hemming told the Commons on Tuesday that a journalist had been refused entry to stop reporting about an issue. He also said that the former chief of police had been suspended to stop him investigating crimes.
He said: "Bloggers are being threatened to stop them talking about people. Decisions by the state not to prosecute cannot be challenged, nor is private prosecution allowed."
He claimed these and other events had been "struck from the States' version of Hansard" as part of a "culture of cover-up".
Mr Hemming said: "Jersey is an independent country, but the UK Government have a responsibility for ensuring good governance in Jersey. The UK is not doing its job properly."
It is not the first time Mr Hemming has spoken out against the island in the Commons.
In November 2010 he tabled a motion calling for action to be taken to ensure European human rights laws were enforced in Jersey.