Celtic coin hoard trebles Jersey museum visits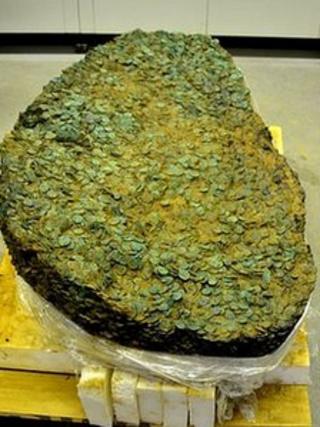 A display of the Celtic coin hoard discovered in Jersey attracted about 3,000 people to the island's museum.
Jon Carter, from Jersey Heritage, said it was more than triple the usual number of visitors to the museum.
The hoard was on display from Thursday to Saturday ahead of work to start separating the individual coins.
Mr Carter said the hoard is next due to be exhibited publicly in 2014, but based on the popularity seen last week they hoped to stage interim displays.
He said: "It shows the enormous interest [in the coins], there was a really good buzz.
"It shows how important the island's archaeology and history can be both for locals in terms of our identity and understanding the character of our history and also for tourists."
The hoard of mostly Celtic coins is worth up to an estimated £10m.
It was discovered in a field in Grouville in June by two amateur metal detector enthusiasts, Reg Mead and Richard Miles, who began their hunt after reports coins had been found in a field some years before.