Guernsey electricity costs to go up by 9%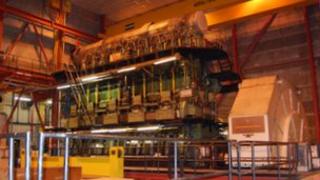 The cost of electricity in Guernsey will go up by 9% from the beginning of October.
Guernsey Electricity managing director Alan Bates blamed the increase on having to rely on their own diesel generators for power.
There was a fault with an undersea cable link with Jersey that allowed the island to import power from France.
Guernsey competition regulator Andrew Riseley said Guernsey Electricity had shown the necessity of the price rise.
He said: "Although a price rise of this size is not ideal there are extenuating circumstances which mean that [Guernsey Electricity] is forced to generate costly on-island electricity."
Increased costs
Mr Bates said the fault led to increased costs, which are now being passed on to customers.
He said the company had absorbed some of the costs to give customers breathing space in their finances but it would cost customers between £3 and £10 per month.
"Generating electricity locally through the use of our diesel generators is more expensive than importing through the cable link.
"This has a direct impact on costs, and therefore a direct impact on prices," said Mr Bates.
He said the company could not rule out further price increases because of the "volatile nature of the wholesale energy market".
"Until further import capacity is secured via a new cable connection, imports will remain reduced and we will rely more on island based generation," he said.
It is hoped the Jersey to Guernsey cable will be repaired before November while the French cable is unlikely to be replaced before 2015.
Mr Riseley said the regulator had told Guernsey Electricity that the price rise should be reversed as soon as a second cable link to France is re-established.