Jersey Airport and Harbours incorporation decision delay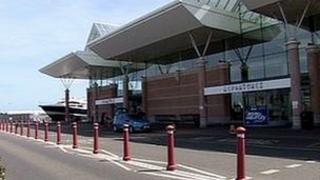 The States has put off making a decision on whether to incorporate Jersey's Airport and Harbours.
Jersey's Economic Development Minister agreed to postpone the decision so concerns raised by members could be addressed.
In the States earlier, politicians felt there was not enough information giving the importance of the ports.
But the minister, Senator Alan Maclean, said it was only an "in principle decision".
He said his department would do more work before the States would be asked to make a final decision.
'Disappointed'
Senator Maclean said: "There have been two States members briefings but the frustration was only 14 members turned up.
"I am disappointed that we have been delayed but the delay will be short, we are planning to come back on 9 October."
The States is being asked to agree that the ports will be run by one company, with the States as sole shareholder.
It is the same way Jersey utility companies, such as Jersey Post and JT, are run.
But unions representing workers at Jersey's Airport and Harbours said they were worried staff contracts could change for the worse if it goes ahead.