Barge considered to dump Jersey seaweed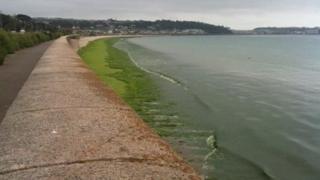 A barge could be used to take tonnes of seaweed away from Jersey's beaches.
The vegetation is currently tipped into the sea at the low water mark but some say it washes back on to the beach.
States Minister Kevin Lewis said: "The effectiveness of removing the seaweed down to the low water line is dependent on tides and weather."
In the States earlier, he agreed to look at other ways of removing the seaweed - which has cost more than £21,000 to shift so far this year.
Politicians will consider using the States tug to tow a barge out to sea so the seaweed can be dumped further away from the island, but Deputy Lewis warned that would require special permits.
He said: "I'm not sure of the exact tonnage but if we had all the licences in place we would have to be very careful where we dumped it at sea bearing in mind the ecology of the area and indeed our local fishermen."