Jersey's fibre broadband plan 'on track'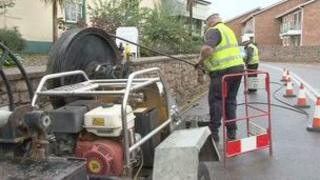 The roll-out of fibre optic broadband to every home is "on target", according to the company launching the service.
Graeme Miller, chief executive of government-owned JT, said it had hit a "significant milestone" in attracting the first 1,000 paying customers.
But Andrew Riseley from the Channel Islands Competition Regulatory Authority said the roll-out was not happening as fast as it could be.
He said it had been going more slowly than JT originally forecast.
Of the 1,000 paying customers only 10 have taken up the fastest 1Gb/s offering, with 40 taking the 100Mb/s connection.
The speeds start at 2Mb/s to 16Mb/s then jump to either 100Mb/s or 1Gb/s.
'20,000 homes'
Mr Miller said: "We have physically passed nearly 20,000 homes on the island and hope to be past every home on the island by no later than Easter next year."
He said that although few customers had taken the faster speeds nearly a quarter had taken a higher speed than they had with ADSL.
"They also get a service that is more reliable, it doesn't matter how long the fibre between your house and our exchange is, you get a reliable service," he said.
Mr Riseley said JT were now coming under increased pressure to make the roll-out happen more quickly and be more explicit about the timetable.
"They are now coming under more pressure from other licensed operators, their shareholder Treasury and Resources and us.
"They have had a chance to do a trial and experiment with the roll out. Our expectation is that they will now iron out the teething problems they have already had," he said.
Operator stalemate
Government-owned telecom company JT received £19m of States funding to help towards the £40m fibre broadband roll out.
As part of that deal JT is expected to sell access to the network to other operators.
Graham Hughes from Cable & Wireless Jersey said his company was struggling to get JT or the regulator to sit down and work out a deal.
He said: "We've been slightly disappointed that following the decision last November that we have struggled to engage with both JT and to receive the regulatory support we hoped would have been provided to allow us to embrace this investment."
Mr Riseley said there was currently a stalemate and that as a regulator it needed to break it.
He said: "Some operators feel they haven't been given an opportunity to participate in that process, JT feel certain of the operators haven't been engaging properly.
"We don't think it is in the interest of the market or consumers. At this moment we are trying to get the operators and JT together to iron out these issues and ensure other operators feel confident in delivering new products across the network."