Jersey Iron Age coin hoard goes on display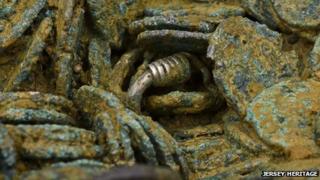 A hoard of Iron Age coins found in Jersey and worth up to £10m will go on display at a museum from Thursday.
Jon Carter, from Jersey Heritage, said it would be the the only time in a long while the coins would be on display in the island.
He said the museum was expecting a big turnout for the coins which were thought to be worth millions of pounds.
Mr Carter said most were still in a big block and that it could take many years to fully separate them.
The exhibition will last for three days before the coins go back to the archaeologists for further conservation work.
Mr Carter said: "It has actually achieved huge international publicity and since it was found we have been cleaning back the clay and the earth.
"This is a chance to see the hoard as it was discovered, it is an amazing object and I'm sure a lot of people will come."
The hoard of mostly Celtic coins was unearthed from a field in Grouville in June and is currently being held at a secure location by Jersey Heritage.
It will be put on display in the foyer of the Jersey Museum at Weighbridge Place for three days as part of the Hidden Treasures festival.
The coins were discovered by two amateur metal detector enthusiasts, Reg Mead and Richard Miles who began their hunt after a woman told them her father had found coins in a field some years before.
There are thought to be about 52,000 coins contained within the block.
Mr Carter said: "We don't know really what's in there, in cleaning it we have found more including some silver jewellery.
"At the moment it is one large lump, we are going to record it like that but later in the year we will start conservation work to see if there is more to be revealed by the hoard."
He said there was a lot of conservation work to be done as this was the Celtic world's largest ever coin hoard.
"We will try to do some of it online so people will see that, but it is a lab based activity that will take a couple of years.
"We are aiming for an exhibition in 2014 but there is still a lot of work to do, so in essence it will be the last chance to see it," he said.