BMI Baby operates last Jersey to East Midlands flight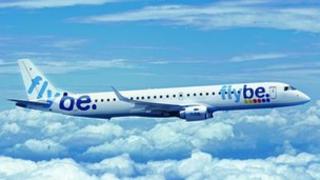 The airline BMI Baby has flown from Jersey to East Midlands Airport for the final time.
The route, operated by the airline for 10 years, has been stopped by Sector Aviation Holdings Ltd which bought BMI's regional division in May.
Exeter-based Flybe will take over the route from 28 October and provide the service three times a week.
Jersey Airport said 34,000 people had flown on the route, which has been in place for 40 years, so far this year.
Simon Lilley, from Flybe, said: "To have continuity on these key routes is obviously important to both business and leisure passengers."
Following the sale of the regional division, Flybe has also taken on BMI's routes to Paris and Amsterdam, but routes from East Midlands Airport to Newquay will not be replaced.