Jersey unemployed could be put to work on cliff paths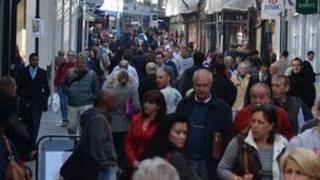 Unemployed people on a back-to-work scheme could be used in maintaining Jersey's costal routes.
Deputy John Young is leading a group looking into how to preserve the island's cliff paths and said social security could help.
The St Brelade politician said getting people who were looking for work involved would be mutually beneficial.
Social Security Minister Senator Francis Le Gresley said the idea was being discussed.
He said staff from his department were in discussion with the Unite union in Jersey and it was at a delicate stage.
'Bang in line'
Deputy Young said: "A number of boxes get ticked, if I was young enough then spending six months working on coastal paths I could be really fit.
"It looks after our island and helps people build up a work record to get back to work. All those boxes are bang in line with the social security back to work scheme."
Planning and Environment Minister Deputy Robert Duhamel, said he would welcome the idea and that it would help his department out.
He said: "The environment department being strapped for cash, is in an enviable position of being able to offer a whole range of environmental work to people who found themselves out of work.
"Whether it would be for a cheese sandwich or a pint of beer at the end of the day or whether we could have done it on minimum wage, either method might have been an admirable way of putting people who would otherwise have not been doing much with their day into doing something useful."
Union representatives were unavailable for comment.