Damian Rzeszowski: Jersey father cleared of murdering family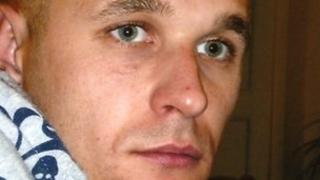 A man who killed six people in Jersey, including his wife and children, has been found not guilty of murder.
Damian Rzeszowski, 31, stabbed his wife Izabela Rzeszowska, 30, his daughter, Kinga, five, and son, Kacper, two, in St Helier on 14 August last year.
He also killed his wife's father, her friend and her friend's daughter.
He had already admitted manslaughter with diminished responsibility - but denied murder - and will be sentenced on 29 October.
He was cleared of murder by Bailiff Sir Michael Birt and two elected lay jurors in Jersey's Royal Court.
Wife's affair
As well as his wife and children, Rzeszowski also killed Marek Garstka, 56, Marta De La Haye, 34, and Julia De La Haye, aged five.
The court heard that Rzeszowski's marriage had been under strain after his wife confessed to a two-month affair. Rzeszowski also threatened to commit suicide, the court was told.
Rzeszowski admitted the killings but his defence argued that he was suffering moderate to severe depression, causing an onset of psychotic symptoms which diminished his responsibility.
Rzeszowski showed no emotion in the dock as the presiding judge, Sir Michael Birt, read out the verdicts.
No members of the victims' families were in court, but the public gallery was full.
Family liaison officer Det Con Daria Harasymowicz read a statement on behalf of the Gartska family.
She read: "This tragedy is even more painful as we have lost our children and grandchildren, knowing that we will never be able to play with Kinga and Julia again or cuddle little Kacper and we can never talk to Isabella, Marta or Marek again makes the pain unbearable."
Det Supt Stewart Gull, senior investigating officer, said the verdict brought to a culmination more than a year's work by the States of Jersey Police and the Attorney General's office.
He said: "Today is not a day for vindication or celebration but sad reflection, the events of the 14th of August have left a sad indelible mark on Jersey's history."
Kitchen knives
Acting Chief Minister Senator Ian Le Marquand said: "Last year this island, and particularly our Polish community, suffered tragic events which both shocked and saddened us all. Although the trial has now concluded, the sense of shock and sadness remains.
"I would like to express my sympathy to the relatives and friends of those directly involved, and to witnesses to these events for all of whom the trial will have been a difficult time."
The court heard Rzeszowski had armed himself with kitchen knives before he stabbed his family and friends.
Born in Nowy Sacz, southern Poland, in August 1980, Rzeszowski first moved to Jersey in 2004.
He worked on building sites as a foreman's assistant and was a hard worker, according to colleagues.
But prosecutors said he was a man who had "difficulty controlling his emotions and communicating his frustrations and worries" - in effect, a "pressure cooker who lacks a safety valve".
When he found out his wife had been having an affair, Rzeszowski became depressed, turned to drink, had a one-night stand, took an overdose of pills and got involved in fights.
He will be sentenced on 29 October in front of 12 elected jurors - known as jurats - and the Bailiff at the Royal Court.