Increase in Jersey pupils gaining A* to C GCSE passes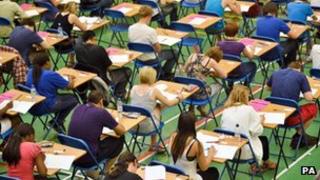 More pupils gained A* to C GCSE grades in Jersey in 2012 than in 2011 with 74.8% of teenagers gaining the top grades.
In 2011 the pass rate stood at 73.6%. Jersey was also higher than the 2012 national average which was 69.5%.
There were about 1,000 teenagers sitting GCSEs in Jersey in 2012 with 10% gaining an A* for at least one exam.
In total 10% of all GCSE students in Jersey were awarded the top A* grade.
Grainville School, which in the past has seen disappointing results, said 57% of its pupils achieved grades A* to C and 96% achieved A* to G.
In 2011 39.9% of pupils at Grainville achieved an A* to C grade.
John McGuinness, Grainville head teacher, said: "At Grainville we passionately believe that 'every student counts' and 'every grade counts'.
"I am very proud of our students and their achievements in both academic and vocational subjects; in Maths as well as Engineering; in Modern Foreign Languages, as well as Catering; in Business Studies and English Literature as well as Work Related Learning."