Jersey drummer says Olympic ceremony was a 'surreal experience'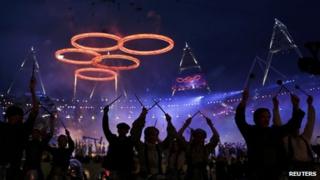 A Jersey drummer said performing in the Olympics opening ceremony was a "surreal experience".
Tom Ashcroft, 20, was one of 1,000 drummers performing in Danny Boyle's spectacular, and said watching it back left him "speechless".
The ceremony on Friday night was watched by nearly 27 million people in the UK alone and up to one billion around the world.
Mr Ashcroft said: "I was talking to some guys in the changing room and we were saying we could not process just how many people were watching.
"To walk out in the parade of athletes was a feeling you can't really describe, it was really surreal."
Mr Ashcroft performs in Jersey band Salem's Lot, and has been studying at The Institute of Contemporary Music Performance in London.
He responded to an advert for performers posted on the notice board at the college where he is studying for a music degree.
He took part in most of the event, from the industrial revolution scene near the start and then during the parade of athletes to keep them moving.
"I was drumming for about two hours, my arms and legs were really killing me," he said.
Slumdog Millionaire director Danny Boyle's £27m production saw thousands of performers bring British history, culture and society to a world stage.
The drummers started rehearsing in May, and Mr Ashcroft took part in about 20 rehearsals.
Mr Ashcroft says he watched the footage back and felt he was part of something incredible.
He said: "I got to keep my drum and my costume and I've got a certificate from Danny Boyle and we got a programme for free.
"It is something I will never forget for the rest of my life."