Five people hurt in two crashes in Jersey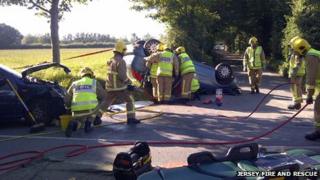 Five people were hurt in two separate crashes in Jersey on Tuesday evening.
A driver was trapped in an overturned car after it was in a collision with another car on Princes Tower Road at about 18:00 BST.
Watch Manager Chris Love said: "Due to the complexity of the incident another fire appliance and ambulance were called for."
The driver was taken to Jersey's General Hospital along with the driver and passenger of the second car.
The emergency services were still at the scene when they received a call about a crash on La Grande Route de St Martin.
Mr Love said three vehicles had collided and two people had suspected spinal injuries.