Jersey independence from the UK 'not government policy'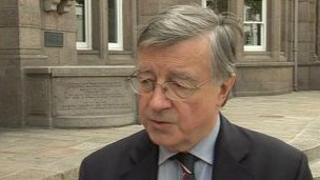 It is not government policy for Jersey to become independent from the United Kingdom, says Jersey's chief minister.
Its assistant chief minister said Jersey should be ready for independence after the UK government said it was cracking down on tax avoidance.
Senator Sir Philip Bailhache said relationships with the UK had been "strained" over the past five years.
Chief Minister Senator Ian Gorst said: "I struggle to think of the conditions that we would want to go independent."
He added: "The benefit to us of being a Crown dependency I think is very strong.
"It helps to underlie the stability we have politically and legally and it is certainly helpful for our finance industry because we have got this link into London and the markets."
'A little time'
But Senator Bailhache said: "If Jersey was faced with a stance by the UK or the European Union which meant the finance industry was going to up sticks and leave the island, then that clearly would be an instance where we would have to consider very carefully where our best interests lay.
"We should be ready for independence if it was obvious that it was the right thing for the island to do."
UKIP MEP Nigel Farage said he sympathised with Senator Bailhache's concerns and that if regulation got too much Jersey would have to consider independence.
He said: "Please give us a little time. The political pressure in Europe is building up for us to have a referendum.
"If we left Europe then the pressures making Jersey think about independence would go away."