Jersey 'should be ready' for independence from the UK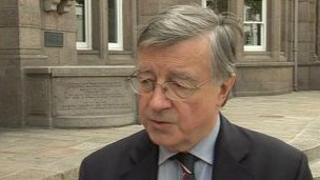 Jersey should be ready to become independent from the UK, the island's assistant chief minister has said.
Senator Sir Philip Bailhache's comments came after the UK government said it was cracking down on tax avoidance.
He said: "Independence is quite a long way down the road, but I do feel and I have been saying for quite a long time, that we should not close our eyes to this possibility."
St Brelade Deputy Montfort Tadier said the senator did not speak for everyone.
"He is not speaking for the majority of Jersey residents, he has not been elected by the assembly to be a spokesperson for Jersey," he said.
"It comes across potentially as antagonistic at a time when I would certainly be seeking a greater co-operation with the UK to look at where our common interests lie."
Jimmy Carr
It emerged last week that more than 1,000 people, including comedian Jimmy Carr, were using the legal Jersey-based K2 scheme which sheltered £168m a year from the UK Treasury.
Sir Philip said Jersey had not been marketing itself as a tax haven nor a place where people could ignore their fiscal dues.
He said Jersey had signed a range of tax information exchange agreements with countries in the European Union and elsewhere to demonstrate it was a transparent jurisdiction.
UKIP MEP Nigel Farage said he sympathised with Senator Bailhache's concerns and that if regulation got too much the island would have to consider independence.
He said: "Please give us a little time. The political pressure in Europe is building up for us to have a referendum.
"If we left Europe then the pressures making Jersey think about independence would go away."
'The right thing'
Sir Philip said: "If Jersey was faced with a stance by the UK or the European Union which meant the finance industry was going to up sticks and leave the island, then that clearly would be an instance where we would have to consider very carefully where our best interests lay.
"We should be ready for independence if it was obvious that it was the right thing for the island to do."
The minister's comments appeared on the front page of the Guardian newspaper on Wednesday.
He told the newspaper that relationships with the UK had been "strained" over the past five years and Jersey's interests were not always aligned with those of Britain.
Sir Philip said Jersey's government was planning to open an office in London, and had opened a Channel Islands office with Guernsey in Brussels.