Domestic abuse accounts for 9% of all Jersey crime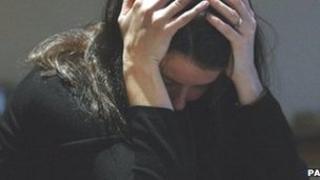 Figures showed 9% of all recorded crime in Jersey was linked to domestic abuse.
The police report said officers went to 1,011 domestic incidents last year and 30% of serious assaults in Jersey in 2011 were cases of domestic abuse.
A police spokesman said the force had introduced a "significant change in emphasis in domestic abuse investigations" in 2011.
He said police now focussed on challenging offenders instead of relying on victims to give evidence.
The spokesman added this change had an impact on the prosecution rate, with police prosecuting 33% of domestic-related crimes in 2010, rising to 41% in 2011.
Mike Cutland, from the Domestic Violence Forum in Jersey, said domestic abuse was under reported.
He said: "For every victim who comes forward and makes a complaint to police there were four or five who did not come forward.
"We are trying to improve the reporting to the authorities and I think we are seeing some evidence of that."