Jersey fire crews in two hour dog cliff search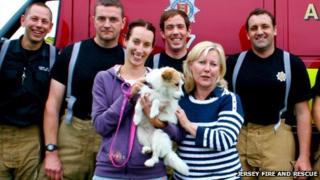 Ten Jersey firefighters searched for two hours for a dog who was believed to have fallen down a cliff.
A team searched for the dog on the cliffs near Devil's Hole on Jersey's north coast on Sunday afternoon.
The Jack Russell, Tyex, went missing after running off a cliff path, and his owner called for help.
He was eventually spotted about a mile further along the cliff and was able to scramble up to the top of cliffs to his owner and was uninjured.
Station Commander Marc Le Cornu said: "Initially locating Tyex was a very difficult task, but the team did a great job in coordinating and completing the search.
"I would also like to say well done to the owner, as it is always tempting for owners to follow pets into danger in an attempt to save them, however she did the right thing and called for help.
"We were very happy to see Tyex uninjured and back in the arms of his owner."