Jersey Bailiff given knighthood for services to the island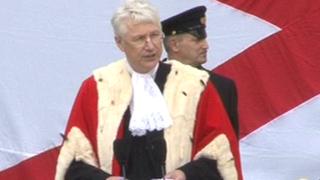 Jersey's bailiff has been awarded a knighthood for services to the crown and community in the Queen's birthday Honours list.
Michael Birt is the 88th Bailiff of Jersey and has held that role since 2009.
Three other islanders were also honoured as part of the birthday list including overseas aid worker and former senator Jean Le Maistre.
Charity campaigners John Hodge and Dawn Woodhouse were also appointed MBE.
John Hodge was appointed MBE for his services to the homeless in Jersey as the director of the Shelter Trust.
He has helped the charity raise money to support people struggling in the island and provide shelter for them.
Dawn Woodhouse is the founder and chairman of Holiday's for Heroes, a charity that brings servicemen and women to the island with their families for rest and recuperation.
Sir Michael said he was very pleased to be given a Knighthood by the Queen.
He said: "I am very pleased for Jersey that the civic head is still recognised in this way, it is a good recognition for Jersey as well as me personally."
Mr Le Maistre served as a member of the States of Jersey for 33 years as a deputy and then senator, ending as the father of the house when he retired in 2005.
As well as being one of the first members of the then overseas aid committee, Mr Le Maistre was also one of the politicians responsible for getting Jersey Fairtrade Island status.