Three cats rescued from St Helier flat fire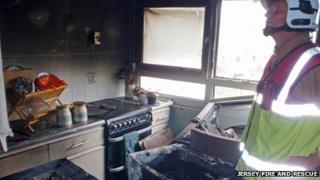 Jersey firefighters rescued three cats from a fire in a second-floor flat in St Helier.
A neighbour in the high rise flats called the Jersey Fire Service after hearing a smoke alarm going off.
A fire crew spokesman said there was no-one in the flat, which was severely damaged by smoke, although the family's three cats were inside.
Watch commander Chris Love said: "The [cats] were found and left safely on the flat's balcony."
He said the fire was was contained to the kitchen area and was thought to have been started by an electrical fault in an appliance.
Mr Love warned people not to leave domestic electrical appliances, such as washing machines, tumble dryers and dishwashers, switched on when no-one is home.