Jersey's immigration laws 'need to be clearer'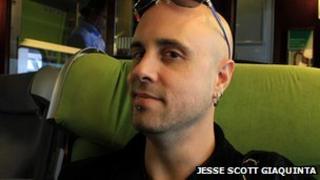 A US musician who was been banished from Jersey for a year after having no work permit said the law needed to be clearer.
Jesse Scott Giaquinta was asked by immigration authorities to leave the island after arriving to gig for free with a friend who lives here.
Customs and Immigration deemed his attempt to visit "deception on entry".
Home Affairs Minister Senator Ian Le Marquand says the rules are simple for any non-European Union residents.
He said: "If a non-European economic area person is seeking to come into Jersey they have to declare why they are coming and if they are going to work have to obtain a work permit.
"The issue here is the definition of work would include, in some circumstances, unpaid work."
Mr Giaquinta has performed around the world, and with the group Deepsky he had a number one Billboard dance single with a remix of Madonna's Die Another Day and Hollywood.
Assembly Line Studios, where he works as a producer, earned a platinum record award for work on the Twilight movie soundtrack.
Needing approval
Customs officers said non-EU nationals coming to the island and "engaging in musical activity" needed approval.
Mr Giaquinta said what they government defined as work was not clear enough.
He said not allowing people to exercise their skills while visiting the island was ludicrous.
He said: "What it comes down to is a fundamental flaw in the way it is interpreted and the word work itself.
"For people like me who do what they do for a living, I didn't get into music because I was trying to make $1m, I got into it because I love doing it, I love to be creative.
"Now the law is saying if you do this for a living it is deemed as work. I have always enjoyed my work, so where do you draw the line?"