Jersey has three times as many guns per head than England and Wales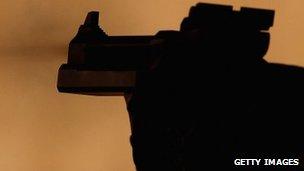 There are three times as many guns per head of population in Jersey than in England and Wales, according to the police.
The States of Jersey police said there were more than 9,700 guns in the island, with a population of 97,857.
The guns in Jersey are kept by 1,800 registered owners.
One islander owns more than 300 weapons but the police said they were a World War II enthusiast and all the guns had historical significance.
Home Affairs Minister Senator Ian Le Marquand said he was confident Jersey was safe despite the high level of gun ownership.
He said most of them were used for sport or owned by collectors.
Related Internet Links
The BBC is not responsible for the content of external sites.