Twins rescued from locked bedroom by Jersey firefighters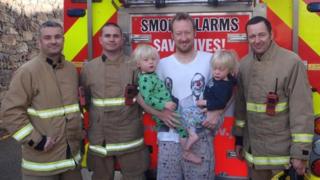 Jersey firefighters had to be called to rescue two-year-old twin boys who had accidentally locked themselves in their bedroom for an hour.
Alfie and Dylan's parents Matthew and Amy Winpenny called the fire service after failing to free their sons from the room in their home in St Martin.
Martin Allix from Jersey Fire Service said it was an old-fashioned lock which could not be opened from the outside.
The boys got a tour of the fire engine to help them get over their ordeal.
Mr Allix said Mr and Mrs Winpenny were relieved when the Red Watch firefighters managed to dismantle the door frame to free the boys on Thursday morning.
The boys were said to be slightly upset and surprised to see the firefighters in their uniforms.