Bomb experts detonate WWII mine in Jersey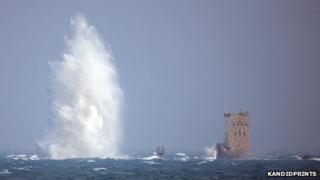 Bomb disposal experts have detonated a wartime mine which was found at Jersey's Gorey Castle.
The device was moved to Seymour Tower in Grouville Bay to be detonated on the next high tide where 19 similar mines were destroyed in 1979.
The bomb was a type used by the Germans during the occupation of the island and experts said it was not leaking.
The blast was carried out at high tide to reduce the effects of both blast and shrapnel.
Stuart Elliot, the bomb disposal expert at the site, said the device was a German Roll Mine.
"They weigh something in the region of 355lb, of which about 50lb is an explosive. It can turn very unstable.
"They were located during the occupation, the idea was you would drop them over the side, you would detonate it from a distance and it would hit anyone below."