Jersey could face hosepipe ban if no rain in April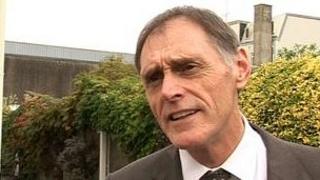 Jersey could face a hosepipe ban unless there is significant rainfall in the next fortnight.
Howard Snowden, managing director of Jersey Water, said water restrictions could be brought in if it was a dry April.
He said he did not want a hosepipe ban but it may be needed as a precaution.
But he said a wet December in Jersey meant it was in a better position than many places than the UK which have hosepipe bans.
He said: "The winter months from October to March have been well below average and it was only December that skewed the rainfall figures, so if it wasn't for December we'd be in a much worse position.
"We really need to see some significant rainfall in April to be able to have some confidence in being able to take us through the summer."
'Swell and mature'
Jersey Met Office forecaster Mark Le Cornu said Jersey has had a lot of dry weather.
He said: "Last Spring was the second driest on record, even if we do get a fair amount of rain in the summer a lot of it is lost to evaporation.
"Basically we need winter rainfall to accumulate rain."
He added: "In January, February and March we are less than 50% rainfall."
Trevor Le Maistre, the sales manager from the Jersey Royal Company, says the dry weather is having a huge impact on growers.
He said this year's crop of Jersey Royal potatoes will be smaller and later than usual if it does not rain soon.
He said farmers were watering their crop to keep it alive, but it did not allow the potatoes to swell and mature in the same way as rain.