Police issue warning about fake Jersey £10 notes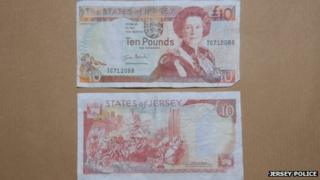 A series of fake Jersey £10 notes have been handed to police, prompting a warning to residents.
Insp Diane Wheeler said eight forged notes had been handed to the States of Jersey Police.
"We are not aware in recent times of any Jersey notes being forged - it tends to be Bank of England ones that make their way over here," she said.
She said there were no watermarks on the fake notes, nor the line that runs down the middle of the note.
Insp Wheeler said: "If you hold the notes up to the light, you should see a line and a watermark and if that isn't present, then I'd suggest that people decline the offer of that note and ask for payment by other means."
She said if anyone believed they had a fake note they should take it to a police station to be examined.